Tattoos on the finger
: The act of coloring the skin is a particular way of expressing your identity, personality, values ​​and preferences through the chosen symbol. It is a way of life that has been conquering more and more followers from all over the world. Synonymous with charm and daring, finger tattoos already achieve status
fashion
Artists such as Rihanna, Kelly Osbourne, Neymar, Caio Castro, Pitty, Isabeli Fontana, Dani Bolina and Cara Delevingne are some who have already adhered and regularly wear their tattoos on social networks. The sheer size of finger tattoos is due to the softness of the design, whether with delicate and fine lines or the restricted space – perfect for beginners and / or more subtle and minimalist designs. However, more attention is paid to those who prefer more elaborate icons. As the region is sensitive to possessing little muscle and fat, the pain will be your companion – even if for a brief period. In addition, periodic retouching is recommended by direct contact with water, sun exposure and flaking. Other than that, there is an impressive array of icons that fit perfectly on the fingers. Among the favorite symbols are hearts, crowns, stars, moons, animals, skulls, feathers, arrows, motivational words, commemorative dates, musical notes, cross.
90 ideas of finger tattoos to inspire
Couples in love, even, replace the traditional gold rings with personalized finger tattoos. There are those who claim that the chosen icon translates their love story in a more exclusive and unique way. Check out in our gallery 90 amazing finger tattoo tips below and get the inspiration you need to move on here: Picture 1 – Risk and choose designs that express your personality!

Picture 2 – For the lovers of the card

Picture 3 – Love by kittens

Picture 4 – I love you!

Picture 5 – Delicate and nice branch of leaves

Picture 6 – The key to success

Picture 7 – How not to fall in love with a pixelated heart?

Picture 8 – A sure formula is to stamp various elements on all the fingers

Picture 9 – Do you prefer something more romantic and cute? This one is for you!

Image 10 – Trust in yourself!

Image 11 – Cupcakes colorful and full of life

Picture 12 – A ring that will be stamped forever!

Picture 13 – A trip to space

Picture 14 – Fancy bird, colorful and full of joy!

Picture 15 – The butterfly is the symbol of transformation!

Picture 16 – Share love

Picture 17 – The owl does not live without its tree

Picture 18 – For the cooks on duty

Image 19 – Music rejoices, energizes and unites people

Image 20 – Feather brings luck and protection

Picture 21 – Birds are messengers between heaven and earth

Picture 22 – United Forever

Picture 23 – The wolf is the guardian of the night

Image 24 – How about stamping the initials of your name?

Picture 25 – Delicate and tiny third in the finger

Image 26 – Abstract designs are also super high!

Image 27 – Smile, baby!

Picture 28 – Symbol of friendship

Picture 29 – Old School Tattoo

Picture 30 – Peace and love!

Picture 31 – A proof of love

Picture 32 – Contour pencil

Picture 33 – A touch comic with paper airplane

Image 34 – Innovate and prefer modern alliances!

Picture 35 – Do you love to travel? Declare all your love!

Image 36 – For Art Lovers

Picture 37 – A toast to a special year!

Image 38 – Luck knocks on your door

Picture 39 – The Ray of Love

Picture 40 – Full of precious details that make all the difference!

Picture 41 – Pine tree minimalista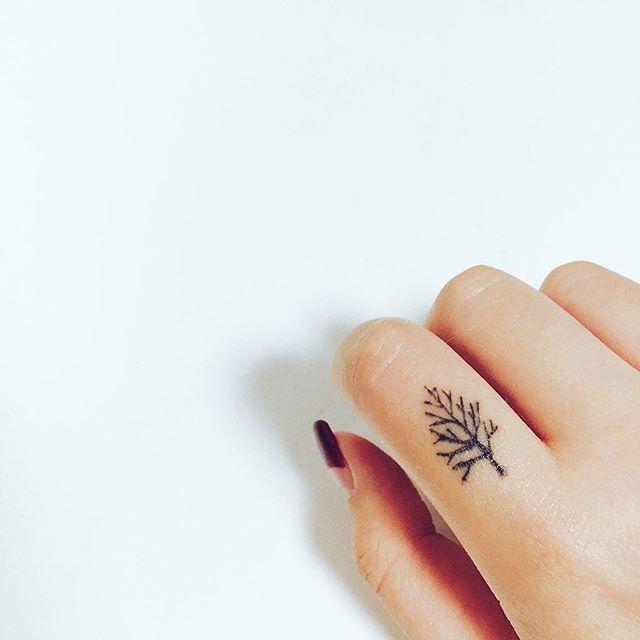 Picture 42 – Crazy for ice cream

Picture 43 – The kitchen is your home

Image 44 – Long Live Capitalism

Image 45 – Gather the whole gang of Mario Bros

Picture 46 – The stars give all the charm to your hand

Picture 47 – The Mighty Dragon

Image 48 – Fish represents life and abundance!

Picture 49 – United by the anchor of love

Picture 50 – Bring more life with colorful cupcake

Picture 51 – The party of the musical notes

Picture 52 – Fun tattoos are always welcome!

Picture 53 – Stamp your two favorite comrades

Picture 54 – How about in the form of a ring?

Image 55 – The arrow symbolizes destiny and conquest

Image 56 – Stay True

Image 57 – Do it!

Image 58 – Female skull and full of beauty!

Image 59 – The crown is one of the favorite designs for couples

Image 60 – Diamond is synonymous with power, strength and perfection

Image 61 – Beautiful red rose

Image 62 – Are you in doubt which design to choose? Print all four fingers!

Image 63 – Passionate about Asia? This is perfect for you!

Image 64 – Triple Alliance

Image 65 – Is Music Your Life? Choose a musical note!

Picture 66 – The smile is friendly and pleases everyone!

Picture 67 – Like a wave in the sea

Picture 68 – Full of personality and style!

Image 69 – The moon is the symbol of femininity

Image 70 – Diamond and Lace are among the women's favorite designs

Picture 71 – The mustache

Picture 72 – The heart is love, strength and truth

Image 73 – Live Without Limits

Image 74 – Tied by Destiny

Picture 75 – Who has the key to your heart?

Picture 76 – Passion for cooking, travel and wine

Image 77 – Destination

Picture 78 – Differentiate and choose an unusual figure

Image 79 – Declare your love to your profession

Image 80 – Texture very well crafted

Image 81 – Abstract contour figures

Picture 82 – It is not science

Image 83 – You have no idea? How about betting on your childhood nickname with a beautiful star?

Picture 84 – Full onset of attitude!

Picture 85 – Each in his square

Picture 86 – You can not go wrong with the cross

Image 87 – Delight!

Picture 88 – Homage to Our Lady of Guadalupe

Picture 89 – Tea Time!

Image 90 – Vibrant, colorful and vibrant unicorn!