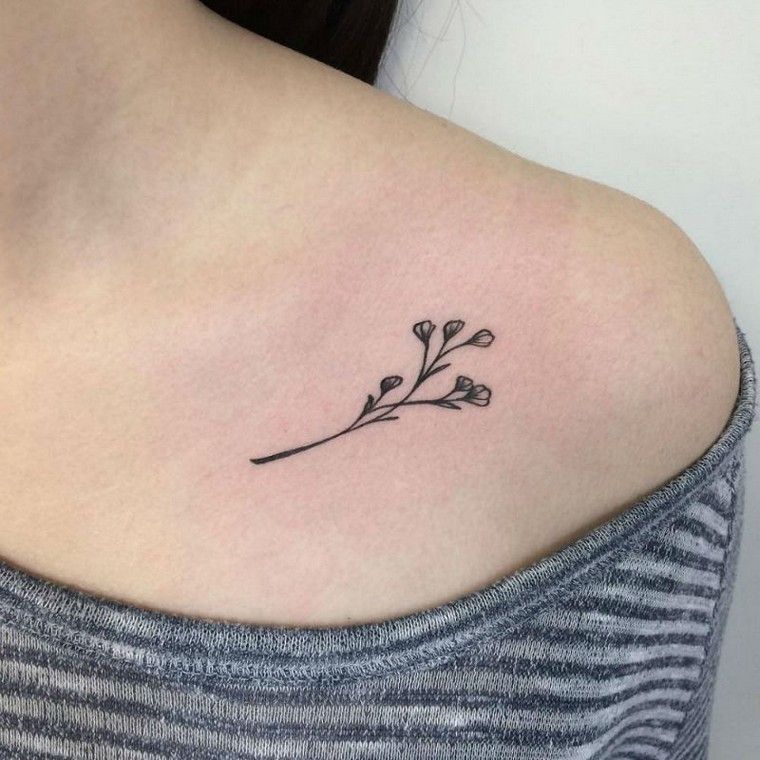 The flower tattoo is soft, elegant and discreet. It is perfect for a tattoo arm, tattoo forearm, finger tattoo, tattoo wrist or ankle … If you want to get a tattoo of a pretty flower and you wonder what model to choose, this article is for you!
Flower tattoo: ideas and tips in pictures
We recently became interested in tree tattoo , now it's the turn of the flower tattoo! Zoom on this beautiful delicate tattoo and selection of our favorite flower tattoos.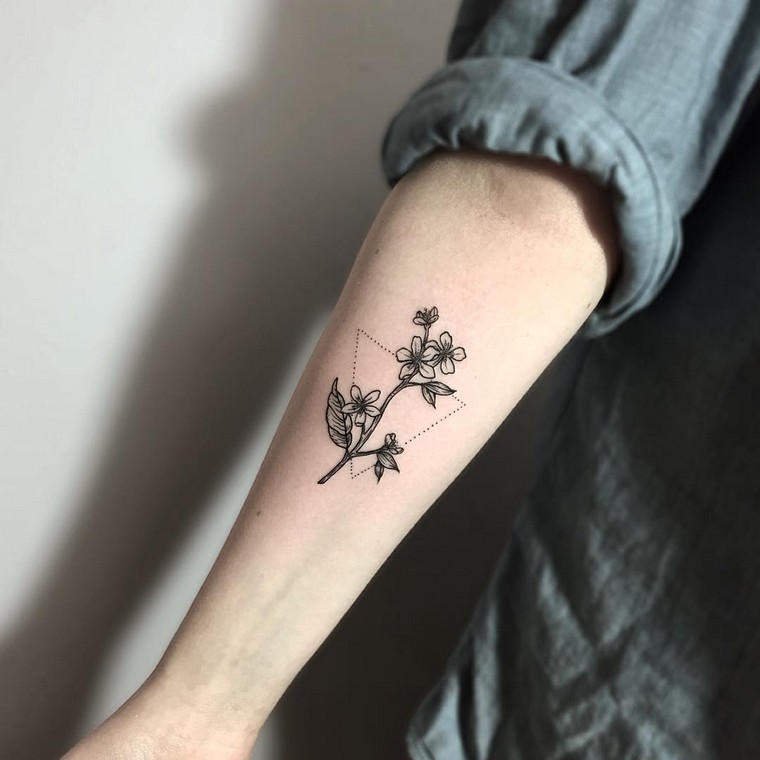 The language of flowers
Do you know why we offer flowers? This tradition is at the origin of a mythology rich in symbolism. The flowers are indeed impregnated with meaning and meanings. We tried to unravel the hidden mysteries of some species of flowers here. The Japanese call the flowers Hanakotoba. For them, the language of flowers is a secular art form. The floriography is an imaginary name invented in the Victorian era that refers to the symbolism of flowers and the ability to express what we mean by offering flowers to someone.

Below you will find a short list of some of the most common plant and flower species and their symbolic meanings. As you will see, the interpretations are really very numerous and often frustrated.
oat – she associates herself with music, but also with health
Azalea – temperance, fragility, gratitude, passion, Chinese symbol of femininity
Dahlia – dignity and elegance
Cherry flower – positive change, Japanese symbol of sweetness or kindness, Chinese symbol of female beauty
Gardenia – love, joy, good luck
Hibiscus – unique and sweet beauty
Iris – love, success, happiness
Jasmine – eternal and sweet love
Ivy – fidelity and endurance
Lilac – love, fidelity, purity
Lily – innocence, love, purity, passion and desire
Lavender – love at first sight, devotion, eternal love, gratitude, calm
Laurel – victory, success, glory
Lotus – purity, eloquence, renewal, awakening
Magnolia – love of nature
Daisy – innocence, faithful love, purity, beauty
Thrush – sweetness, confidence, sweet love
Narcissus – the narcissus associates with the arrival of spring here is why it is symbol of rebirth; he is also a symbol of narcissism;
Eyelet – purity, innocence, love, beauty, but also selfishness
Olivier – peace, victory, strength, loyalty, courage
Orchid – fine and delicate beauty, but also a Greek symbol of virility and strength
Peony –
Pink – it is almost always associated with love, indeed the meanings vary according to the color;
pink rose – Grace, dark pink – the gratitude, light pink – desire, passion, joy of life, youth and energy
burgundy red – beauty, coral or orange – desire and passion, red and white together – love and unification, Red and yellow together – joy and happiness, rose without thorns or violet – love at first sight
Sunflower – purity, fidelity, love
Tulip – the meanings vary according to the color;
red – eternal and faithful love
White – incomparable love
purple – love forever
yellow – one way Love
Purple – fidelity, reverie, modesty
Ylang ylang – eternal and very deep love

All the flowers are pretty and we find something common in their symbolism … More than half means love ! The conclusion – tattooing a flower is a good idea and you will never go wrong!
Delicate flower tattoo ideas
Instead of choosing a particular flower, you can get a small bouquet, for example. For a really personalized and original tattoo, try to draw it (even if you are not very good at drawing, it's always worth trying).

The flower tattoo is ideal for a tattoo arm or forearm all delicate.
The color tattoo – a good idea?
Some say that the color tattoo may be toxic, others say that it depends on the ink used and its color. Both are true, here's why you have to learn well before and ask your tattoo artist what ink he uses. Usually toxic inks are forbidden. Pay particular attention to the red ink. A large majority of color inks are made from heavy metals. It all depends on how sensitive your skin is. It is quite possible to make allergies to black ink. Never forget: skin is the largest organ of our body. It must therefore be treated with great care. But do not be afraid, find out beforehand and ask your tattoo artist for advice!

Give it a try before you start!
If you are the type of person who changes your mind overnight, we advise you to try with a ephemeral tattoo . It's always better to try before you start! Permanent tattooing is a definitive decision. Like our temporary tattoo project friends inkbox * say: "Make a bad decision … temporary!" .

Tattoo Nape Flower – That's tricky!
The flower tattoo is an ideal choice for a neck tattoo. In Japanese culture, the neck is the most attractive part of a woman's body. It is also an ideal place if you want to make a tattoo very discreet and intimate. At any time, you can hide it with your hair.

Flower Ankle Tattoo – Great for the summer!
The flower anklet tattoo is also one of our favorite tattoos. This tattoo is also easy to hide – with your socks or pants, for example. It will be visible in summer, and hidden in winter. This area of ​​the body is delicate and the skin is very thin. Also keep in mind that: the more the skin is close to the bones, the more you will have trouble when you tattoo!


Finger tattoo flower?
We use our hands every day and all the time. It is not necessary to say that the fingers are one of the most visible parts of the body. The finger tattoo is a big trend lately, but be careful … Remember that your tattoo will always be visible. If that's your desire, then go for it! To tattoo a small sweet flower on the fingers is pretty.

A tattoo behind the ear?
Discreet, inconspicuous and soft – here is how you can describe in three words the tattoo behind the ear. The flower tattoo is a very good choice for a tattoo behind the ear. This part of the body is very delicate and a small tattoo will go perfectly.